Saatchi Art Collections
20 April 2017 - In an effort to make my graphic arts catalog on Saatchi Art more accessible, I just spent a few hours organizing a few collections that group pieces with similar themes. The art on my main website at cgmasi.com has always been grouped into series, but, while you can look at that stuff online, there's really no way for you to buy it directly.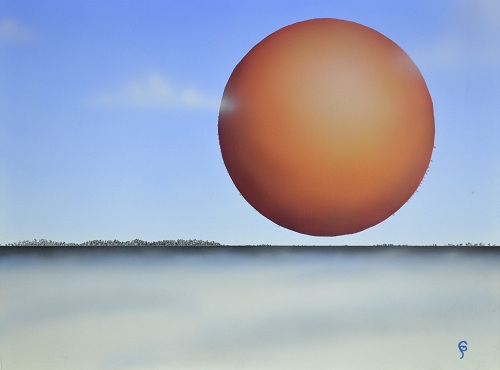 Winterball
is part of my
Spherical Aberrations
collection on Saatchi Art
That, of course, is why I uploaded my entire catalog to Saatchi Art to begin with. Saatchi Art is probably the world's premier online art gallery. I'm not going to go into a marketing piece for Saatch Art here. Let them tell their story themselves. Let's just say it's a great platform for artists to market their work online to the widest possible audience, and for collectors to find and purchase fine art from anywhere in the world.
I've had a few pieces available on Saatchi Art since 2013, and last month I added basically my entire catalog to the site. At that time, my goal was just to get the whole pile of stuff out there for sale. I didn't worry too much about organizing it visually, though.
That's what the "collections" idea is all about.
Several years ago, a curator for a gallery I was trying to interest in carrying my work complained, "It's all over the place."
What she meant was there was no theme. I just painted whatever came to mind in whatever medium was appropriate. That's because I have a wide range of intellectual interests, and am competent with a wide range of media.
The downside, which is what the curator was complaining about, is that it's hard for a collector to pigeonhole my work. It means they don't know what to expect.
For example, if you think of works by the Art Deco graphic designer Erte, you expect to see spectacular posters with images appropriate for Harper's Bazaar covers. The fact that his magazine covers were only a fraction of his lifetime output makes no nevermind. It's what folks remember.
Pigeonholing art is something that helps collectors, but is often a disservice to artists. Anyone whose conception of Pablo Picasso's work is limited to his cubist paintings misses most of his most wonderful and spectacular pieces, which were done in a wide range of styles and media.
But, when marketing art, pigeonholing can be a good thing. It helps collectors get their minds around what the artist is presenting. That's why the Saatchi Art concept of Collections is useful, and why I have started using it to bring order out of the chaos of my Saatchi catalog.